Lawyers need to stay up-to-date with legal industry marketing trends. Informative legal marketing podcasts can make generating business for your law firm easier by advising on various marketing strategies to increase its visibility and raise client awareness.
The activities related to driving new business to a legal firm can include traditional advertising and digital marketing. However, staying competitive in an ever-changing industry requires a deeper understanding of how to optimize your marketing efforts.
Podcasts can help ensure you understand the professional ethics required when promoting your legal firm, whether you plan to use traditional or digital marketing or a combination. Your time is money, but the best legal marketing podcasts are short and informative, giving you actionable marketing information to increase your clients.
Key Takeaways:
Podcasts can provide legal industry marketing advice on traditional and digital strategies.
Understanding the ethics required when promoting your legal firm is essential to staying competitive in an ever-changing market.
The best podcasts are short and informative, providing actionable information to increase clients for your law firm.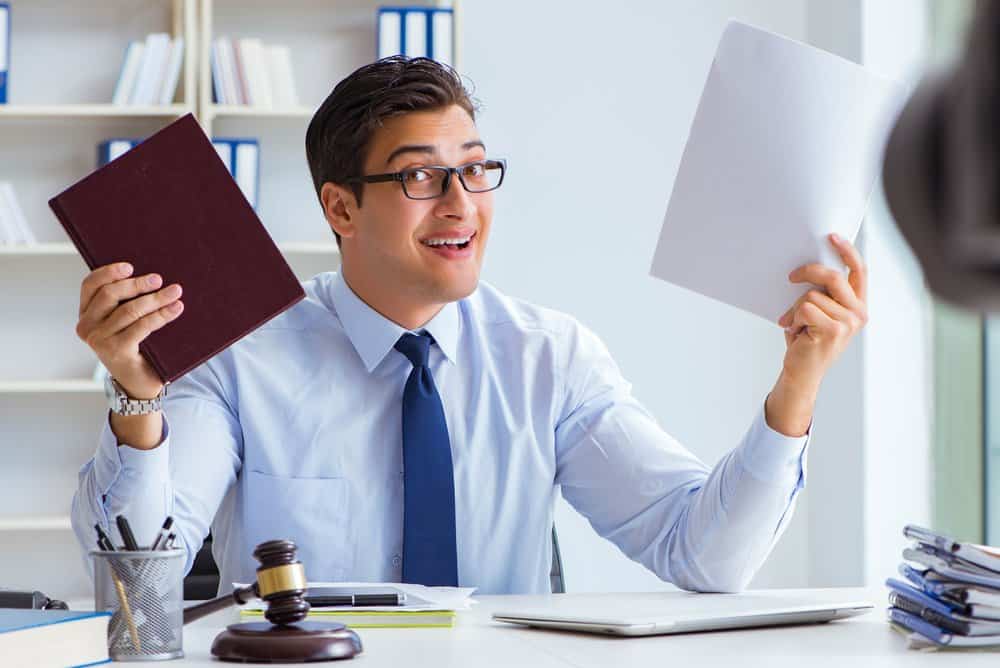 10 Best Legal Marketing Podcasts
Podcast popularity continues to grow since they provide a time-saving way to pick up tips and inform yourself. Legal marketing has become a burning topic for legal firms wanting to grow their business and retain their clients.
Podcasts can help you understand the importance of getting leads, call-to-action, conversion rates, Google Ads, SEO, and ROI. Moreover, they are convenient to follow because they are short and easy to listen to while commuting, gyming, or over the weekend.
These five legal marketing podcasts can help you create a marketing strategy to attract more clients to your marketing firm.
1.     Lunch Hour Digital Marketing
Gyi Tsakalakis and Conrad Saam host Lunch Hour Legal Marketing (LHLM). Both are digital marketers, but Gyi is a non-practicing lawyer who provides ethical aspects of online marketing for legal firms. Conrad is the founder of Mockingbird Marketing, specializing in legal online marketing. You can watch two new episodes of the entertaining LHLM podcast a month for expert advice on all aspects of legal marketing and how to interest new clients to contact your legal practice.
2.     Legal Marketing 2.0 Podcast
As one of the top legal marketing agencies for lawyers, Good2bSocial provides a team of experts in business development and legal marketing. Guy Alvarez presents informative episodes of the Legal Marketing 2.0 Podcast, where he often shares his insights and perspectives with professional guests. The content is easy to follow whether you're a lawyer or work in legal marketing. Learn about all the latest trends and the best strategies in these short podcasts.
3.     Legal Marketing 101
Legal Marketing 101 focuses on how legal firms can use the latest trends to modernize their legal marketing. Toby Rosen hosts the podcast with regular episodes covering every aspect of marketing. Interesting podcast episodes include "Should I Invest in SEO?" "Why Should I Waste Time on Referrals?" "The Secret Power of User Generated Content," and "Do This to Reduce Your Google Ads Spend by 20%." On Legal Marketing 101, you can learn about viral marketing, automation, and all the most important legal tech.
4.     Legal Mastermind Podcast Presented by Market My Market
These regular podcasts from Market My Market hosts Eric Bersano, Ryan Klein, and Chase Williams aim to provide you with knowledge from legal experts in concise and informative episodes. Topics range from marketing, branding, management, etc.
5.     Law Firm Marketing Hacks Podcast
Andy Stickel hosts the Law Firm Marketing Hacks Podcast, where you can learn the best strategies for marketing your law firm quickly and efficiently. The regular episodes cover topics like using AI effectively to respond to reviews or crush competition. Take your legal firm marketing to a new level with this podcast that teaches tactics to save on your marketing.
These marketers specialize in legal marketing, giving you a fresh perspective on how to enhance your strategies. Find more legal marketing podcasts on PlayerPM or FeedSpot.
6. Legal Marketing 360 Podcast
Legal Marketing 360 offers tips and strategies to market your law firm effectively in a digital age. Hosts Michael Mogill and Rob Kravitz provide marketing advice with practical examples and case studies from the legal industry. Listen to various topics about creating compelling content, video production, PR campaigns, email marketing, website development, SEO strategies, law practice management software, and more.
7. The Law Firm Leaders Podcast
The Law Firm Leaders Podcast is hosted by lawyers-turned-marketers Eric Bllomberg and Ryan McKennna who offer actionable insights on delivering an exceptional law firm experience for clients while creating an inspiring environment for employees. They cover topics such as building a law firm culture, using technology to increase efficiency, creating client relationships, and uncovering the latest marketing trends.
8. The Law Practice Doctor Podcast
The Law Practice Doctor podcast is hosted by attorney Bernie Gardner who focuses on helping lawyers create thriving practices through content marketing, SEO optimization, and other digital strategies. In his episodes, Gardner provides an insider's look at the legal industry by discussing topics like developing strong relationships with clients, leveraging technology to enhance efficiency, and identifying new growth opportunities.
9. Legal Toolkit Podcast
Anyone looking to understand the legal landscape better should check out Legal Toolkit podcast by host Jared Correia. His show covers new regulations, business operations, practice management, legal technology, and client relations. Correia also interviews experts on cybersecurity, law practice finance, and marketing.
10. The Lawyer SEO Podcast
Lawyer SEO Podcast is hosted by attorney-turned-marketer Ryan Chismar who covers all aspects of search engine optimization (SEO) for lawyers. Through his podcast, listeners can learn how to use various strategies to improve their ranking in Google and other search engines. He covers topics like creating effective content, optimizing website speed, developing a link-building strategy, and more.
Best Practices for Law Firm Marketing
When putting your legal marketing into action, remember to apply these four best practices in your efforts:
1.     Provide Client-Centered Experiences
Your potential clients expect a client-centered approach while discovering your services and deciding to hire your law firm. Therefore, ensure your marketing approach matches client needs used by examples in other industries like Amazon, Lyft, etc.
When preparing your website and other marketing materials, you must empathize with client pain points instead of only stressing the legal services you offer. Additionally, make sure you create a website that's easy to navigate. Finally, follow up on the leads quickly, proving you are there to help.
2.     Make Strategic Marketing Choices
A few focused marketing strategies will give you better returns than overextending your marketing budget. For example, you cannot be present on all social media channels. Prefer to choose just one or two preferred by your potential clients. If you plan to start a blog or podcast, it is vital to ensure you post as regularly as you have promised. Therefore, don't promise one if you don't have the time for a weekly post. Instead, promise a monthly contribution.
3.     You May Need Support
Your legal practice relies on your expertise, but you must also run it as a business. If you don't have experience in marketing or don't have the time to do it yourself, consider using a marketing firm or tools to make the most of your marketing efforts.
4.     Use Metrics to Track Your Marketing Performance
You must know how well your marketing efforts and budget are performing. Some of the most important things you must know include:
How are clients finding you
How many visit your website from your marketing efforts
How many are converting to leads and paying clients
Read this comprehensive guide on law firm marketing by Clio to ensure you understand the marketing terms, how to create a marketing budget, and how to implement it.
Tips for Effective Legal Marketing
– Establish an online presence by creating a website, optimizing it for SEO, and creating social media accounts
– Utilize content marketing to demonstrate your expertise in the legal industry
– Make sure your website is mobile-friendly and user-friendly with a clear call to action
– Leverage email campaigns to nurture leads and build relationships with clients
– Create videos as part of your content strategy to reach new audiences
– Track metrics and analytics to understand what's working best for you.
– Constantly monitor reviews about your law firm on different platforms (e.g., Google, Yelp)
– Use AI technologies like chatbots or automated response systems to respond quickly and efficiently to client inquiries
– Stay current with the latest trends in legal marketing and use podcasts like Legal Marketing 360, The Law Firm Leaders Podcast, The Law Practice Doctor Podcast, Legal Toolkit, and The Lawyer SEO Podcast for ideas.
– Develop an effective referral program that rewards clients for sending new business your way (ABA restricts this, so be cautious. A token of nominal value may be allowed in your state, but anything that can be construed as a bribe will not be allowed).
– Ensure you follow local regulations when launching a marketing campaign, as it may vary from state to state.
Ask a Legal Question, and Get an Answer ASAP!
Final Take
These five best legal marketing podcasts can help you improve your law firm's marketing efforts by keeping you updated with digital marketing trends. Start small and focus on your key marketing areas, and keep your eyes peeled on the data to ensure your efforts are reaping their deserved rewards by converting leads into paying clients.
FAQs
What are the best legal marketing podcasts?
The top five legal marketing podcasts are Legal Marketing 360 Podcast, The Law Firm Leaders Podcast, The Law Practice Doctor Podcast, Legal Toolkit Podcast, and The Lawyer SEO Podcast.
How can I measure the performance of my law firm's marketing efforts?
You must use metrics to track your law firm's marketing performance. Some important metrics include understanding how clients find you, how many visitors come from your marketing efforts, and how many convert to leads or paying clients.  You can also read this comprehensive guide on law firm marketing by Clio for more information about creating a budget and implementing it successfully.
Image Courtesy:DepositPhotos